VOLUNTEER APPLICATION
CONFIDENTIAL & IS NOT SHARED WITH ANY OTHER ORGANIZATION.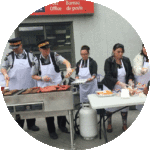 Volunteers are the heart of our organization. We are always looking for enthusiastic, empathetic people to contribute in various areas of our work. Whether you are a social media guru, an great listener or have a knack for tutoring, come join us and put your knowledge and skills to work.
At the Native Women's Association of the NWT, every day is different and exciting, and in the end you will find yourself more rich than you have arrived.
Feel Free to call us for more info
If you have any questions, please contact
Rachenda Weyallon
867.873.5509
Admin Assistant | Ext. #221
[email protected]
On behalf of our clients, thank you for your support.
We hope to see you out at our next event !